Expert Dental Compliance Solutions for

Independent Dentists
and Small to Middle-Market Dental Service Organizations
Welcome to Dental Compliance Specialists, your trusted partner in navigating the complex landscape of dental compliance. We specialize in providing comprehensive solutions specifically designed for dentists and Small to Middle-Market Dental Service Organizations. Our expert training, meticulous audits, and specialized Dental Record Auditing services are tailored to meet the unique needs of your practice or organization, ensuring compliance and success in the dental industry.
Dental Compliance Training:
Our tailored training programs cover essential topics such as OSHA; HIPAA; infection control; Medicaid Fraud, Waste and Abuse Prevention; Clinical Compliance and Dental Recordkeeping, and other key topics. We provide teams with the knowledge and skills needed to maintain compliance and deliver exceptional care to your patients, whether you're an individual dentist or a part of a Dental Service Organization.
Compliance Audits:
Our experienced compliance specialists conduct detailed audits specifically designed for the needs of dentists and Small to Middle-Market Dental Service Organizations. We assess various aspects, including OSHA, Infection Control, Radiation Safety/Compliance, Controlled Substances (DEA), Sedation/Anesthesia, Medical Emergency Preparedness, Medicaid, HIPAA, and more. Our dental office and corporate level compliance audits help identify and prioritize potential areas of non-compliance and provide recommendations to optimize your processes, minimize risks, and ensure accuracy in your operations.
Dental Record Auditing:
Our specialized Dental Record Auditing service is tailored to meet the unique requirements of dentists and Dental Service Organizations. We thoroughly review your billing, coding, and documentation practices, ensuring accuracy, compliance, and optimal reimbursement. Our expert team helps you avoid potential billing and coding challenges, recover lost revenue, and maintain compliance with insurance requirements.
Customized Compliance Programs:
We understand that each dental practice and Dental Service Organization has its own set of challenges. That's why we offer personalized compliance programs that cater to your specific needs. Our team collaborates closely with you to develop and implement a tailored compliance program, providing guidance and support to maintain compliance and achieve your goals.
Expertise and Experience:
Our compliance specialists possess extensive knowledge and experience in Dental Compliance. They understand the unique challenges faced by dentists and Dental Service Organizations, ensuring that our guidance istailored to your specific needs. With years of experience in the dental industry, we stay up to date with the latest regulations and industry trends toprovide accurate and reliable solutions.
Proactive Approach:
Compliance is not just about meeting regulations; it's about staying ahead and minimizing risks. We take a proactive approach, offering ongoing support, education, and guidance, so you can navigate changing regulations, implement compliant processes, and address potential issues promptly.
Peace of Mind:
By partnering with Dental Compliance Specialists, you can focus on delivering exceptional dental care while we handle the complexities of compliance. We give you peace of mind, knowing that your practice ororganization is fully compliant, and you have a dedicated team of experts supporting your success.
Investigative Response:
Sometimes dentists and DSOs call us when they are already introuble with a regulatory agency. Our compliance specialists work with those clients and regulatory agencies to implement corrective actions needed bring the practice/organization into compliance and implement strategies to help the client maintain their compliance efforts. Dealing with the government doesn'thave to be a horrible experience; it helps working with a team that can speak the language.
Are you ready to ensure Dental Compliance and optimize your operations?
Contact us today to learn more about our tailored solutions for dentists and Small to Middle-Market Dental Service Organizations.
Discover how Dental Compliance Specialists can help you simplify compliance, mitigate risks, and achieve long-term success.
Compliance Concerns keeping you up at night?
Sign up for to talk with the Duane Tinker. Discuss your compliance concerns and chase that boogie man out from under your bed!
Are Compliance Concerns keeping you up at night?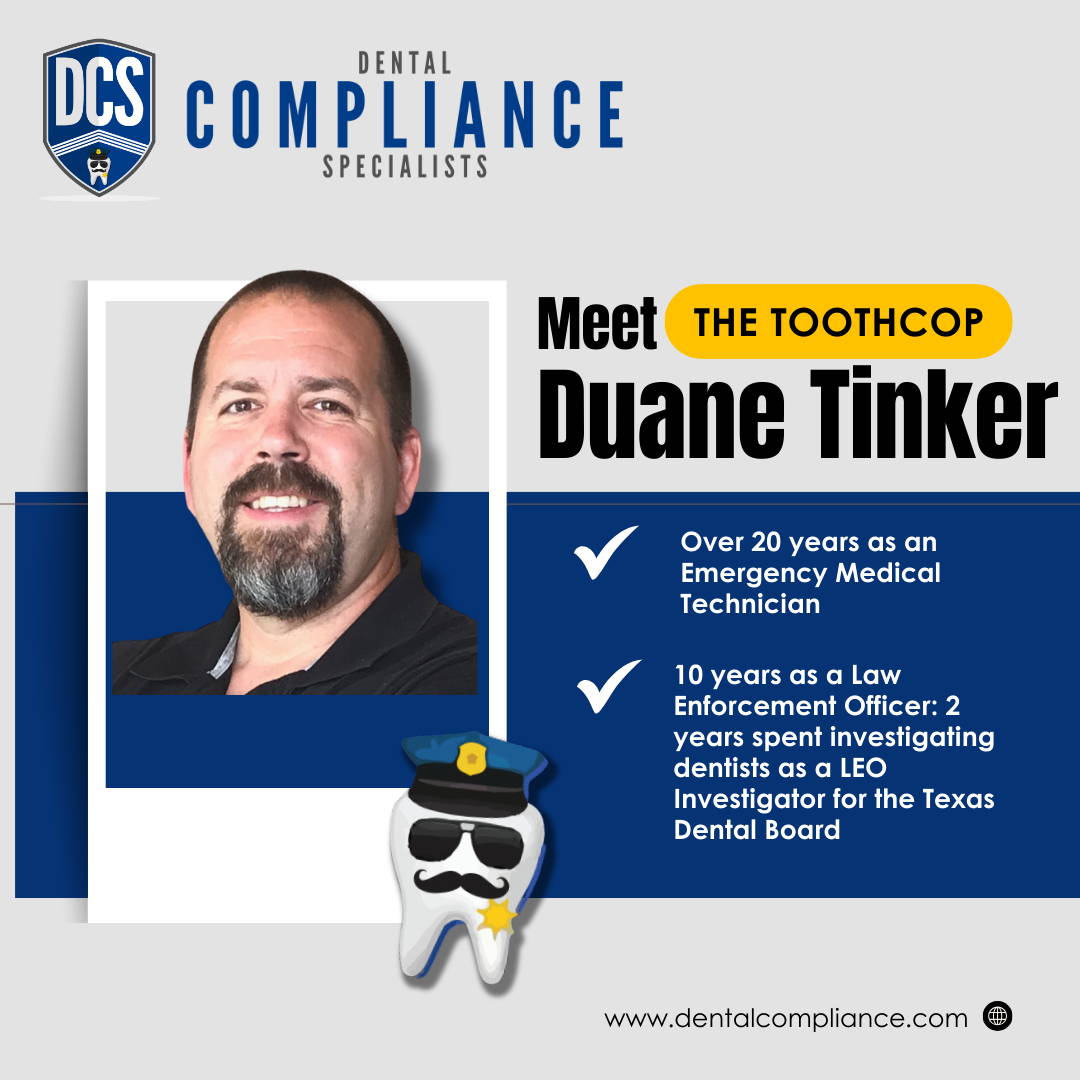 Sign up to talk with the Duane Tinker aka "Tink". Discuss your Dental Compliance concerns today! Take the important step to protect your practice. Remember, you don't know what you don't know and we want to help!